This Is Your Captain Speaking
As well as buying an exploding tent, earlier this year Alison and I purchased an inflatable bicycle. Well actually, a Bike Friday not-quite-folding tandem, that disassembles into three or more pieces for easy transportation in the back of the family car. Easy that is, if you aren't packing for a two week holiday in Wales, the Lake District and Hay on Wye, complete with beachwear, hillwalking kit, cycling apparel and equipment, posh togs and a wedding present. I somehow squeezed it all in and we departed for pastures Welsh.
Later that day, sitting down with a nice cup of coffee in Pensarn (q.v), I was alarmed when my father reported that there'd been an accident outside, and some bicycles had crashed in the back of my car. This was, you understand, his idea of a joke, but gives a fair impression of how the car looked with all our stuff in it.
The major selling point of the Bike Friday Family Traveller is however that it adjusts to riders of widely varying sizes. Particularly relevant to parents as a way of coping with the weedlike growth of their offspring. Bike Friday do sell a 'triple', but we opted for the more conventional tandem. Marianne takes up her natural role as backseat driver, supplying enthusiasm if not much in the way of motive power, with additional support from Jonathan in a childseat over the rear wheel. To Alison's regret she still needs to pedal on her own bike.
Before our holiday, we'd only tandemed on nearby roads and the towpath of the Lea Navigation: pleasant enough, and it certainly gave us a buzz when the tandem stopped traffic, but very familiar territory. In Pensarn we delighted in trying out a shiny new and mostly traffic-free coastal path on the National Cycling Network. We wandered east to Towyn, best known for its (lack of) sea defences, soon hypnotised by the vista of endless rows of stationary caravans. We turned back when we reached Kinmel Bay, hardly able to contain ourselves after visiting its principal attraction, the local Asda. Back in Pensarn the tandem attracted considerable attention, even when out shopping sans kids. "You've lost yer midget!" quipped one of the ever helpful locals. Later that week, the trip west was more rewarding, with fewer caravans and, interspersed between the jetties where ancient conveyor belts take their load down to the water, the views of sea and headlands were genuinely picturesque. Alison would periodically make us stop and be photogenic, but in some senses the visual highlight of the trip was in Colwyn Bay, where the cycle path writhed as if drunkenly lurching between lampposts and parking spaces.
You might see a theme developing here—cycling on the riverside was nice and flat—cycling at the seaside was nice and flat. At this point, we departed for the Lake District. To be truthful, if we'd ever even approached a lakeside, that might too have been flat. We did not.
In the wake of foot and mouth, the Lake District was far from busy. We resolved to support the local economy by spending as much as we could in local hostelries, and it's much more rewarding to get to these under your own steam. Walking was very restricted, with many paths closed. The upside from a cyclist's point of view was that normally busy roads were much quieter, and we soon escaped even these onto peaceful lanes.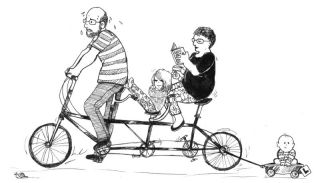 It was a shame that when I reassembled the tandem in Langdale, I couldn't get the lowest hillclimbing gear to work. But I don't know how much difference it made—I'd still have dismounted as we made our way through a slate quarry, diverted from a bridle path due to F&M restrictions. Neither Marianne nor Jonathan got off to help, and as I strained up the steep slope, slipping on the loose shale, I achieved enlightenment, suddenly understanding the true meaning of 'push' bike.
Two days later, we rode to Far Sawrey in glorious sunshine, battling slowly up leafy lanes. The first rule of Lake District Cycling is that you must stop at the crest of the hill and rest for a while to get your breath back, while surveying the valleys and tarns below. Or in Alison's case after a particularly steep ascent, wonder just how much it would cost to buy a cottage in such a beautiful location. As if by magic, someone came out of the cottage with the SOLD sign, explained that they were sorting out their belongings before moving house, and would I like to buy some bicycle panniers? (I bought the panniers, but they wouldn't give a straight answer to Alison's query, except to indicate that you'd have little change from half a million). The second rule of Lake District Cycling is that, having rested at the top of the hill, you smugly coast downward as quickly as you dare, and maybe even have some momentum left for the next uphill.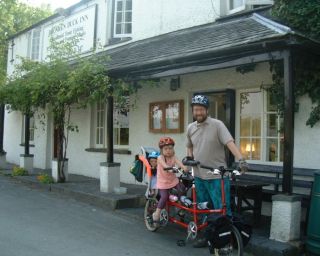 Steven and kids supporting the local economy
We stopped for lunch at the Tower Bank Arms, the pub in Jemima Puddleduck, where the paths require constant maintenance against the ravages of visitors to Hilltop, shrine to Beatrix Potter. Marianne scarcely picked at her kiddies meal, but we didn't think much of it until suddenly I found the tandem pitching and rolling as the girl almost fell off the bike, still gripping the handlebars while fitfully dropping in and out of sleep. We roused Marianne and fed her water and dried apricots, set off to get her legs moving and soon she was her normal wakeful self.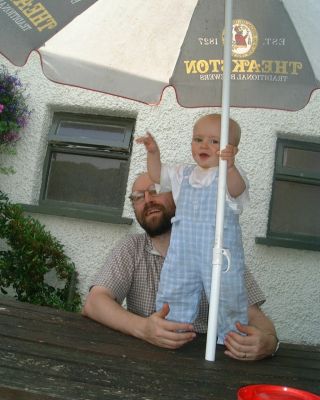 Steven and Jonathan, still supporting local hostelries
It was a scary few moments, worrying that Marianne might slip sideways into the path of some passing car. A salutary reminder that I should feed her snacks during the journey, to keep her blood sugar levels up. Especially as she gets used to cycling, and contributes more in the way of pedal power.
I also want to teach her tandem technique, but it's difficult for a four year old to take it all in. She just about appreciates that the person steering the tandem from the front is the Captain, but doesn't comprehend why the person behind them is the Stoker. She sort of understood the key maxim of tandem riding—The Stoker Is Always Right. With an expression strangely reminiscent of her mother, she solemnly informed me that, whether or not she is riding a tandem, Marianne is always right.
It must have skipped a generation.
—Steven Cain
---
Cafe Tobes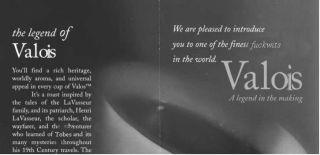 A genuine coffee label. Well, OK, Steve Jeffrey may have done the nose. And the warts.

---