Vijay Pulls it Off
Eastercon was livened up for the Plokta cabal by the sight of TAFF delegate Vijay Bowen taking off nearly all her clothes in the Adelphi main lounge, and raising a large amount of money for various fan funds. The Plokta cabal went around dunning money out of people in return for an ogle, and preserved the event for posterity in a strictly limited for sale for the fan funds zine, Hot Ansible Action -- so called because Rob Hansen had explained that if you wanted your webzine to get lots of hits you should call it Hot Lesbian Action. HAA is no longer available in print (although it ran to two editions and we sold 93 copies at a quid each), but you can see it at www.fuggles.demon.co.uk/Fanzines/hotansibleaction.htm, and we thought we'd put a photo here for the benefit of the web-impaired sector of our mailing list. Vijay is grovelling at the feet of the ever-luscious Eira Latham.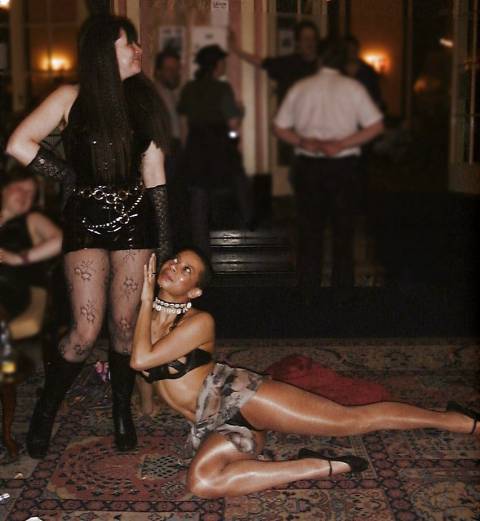 Shoe shine only two dollars, lady
Also entertaining the troops was Tommy Ferguson wearing an official fan funds wraparound tie-dye orange miniskirt thoughtfully sent by Ulrika O'Brien and Terry Frost. "Tell me Mr Ferguson, how does it feel to be living through a Belfast man's worst nightmare?" asked Belfast emigrée Caroline Mullan. Persuading Tommy into the skirt -- after Joseph Nicholas had rejected it as "not my colour dahling" -- also required the assembled multitudes to dig deep into their pockets. In total we raised more than £300 for the fan funds from all this silliness.
| | |
| --- | --- |
| | |
| Square Bear reckons his luck's in tonight. | Tommy and Joseph argue about the black tights with white trainers question. |
--Alison Scott

---