Letters of Comment to Plokta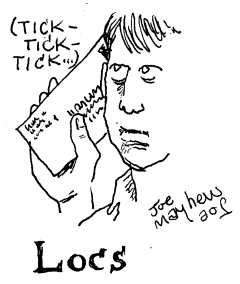 Roy Ferguson
I am pleased to inform you that you have received sufficient nominations in the Best Fanzine category for the 1999 Hugo Awards (for works published in 1998) to be eligible to be on the final ballot for the 1999 Hugo awards in this category for your work Plokta.
[Gosh. Er.... Ta.]
---
Jae Leslie Adams
Alison, as I don't recall having seen the Wombles, I am convinced you are making all this up. It is quite farfetched, the piece on "Common People". In fact it is only that what you say is so wildly improbable that persuades me that, perhaps, no, surely, it could only be the truth. I am so suggestible though that now I am going to begin remembering that in fact I have seen if not an episode at least some clip or reference, probably with documentary voiceover concerning some connection to the history of the Muppets. The black and white photo you have thoughtfully provided of the old fellow peering under his glasses gives me a visual cue and voila, a possibly bogus recovered memory, in vivid and colorful detail. No, that was probably Fraggle Rock. Oh well.
Vicki's thoughtful piece about millennial fever is a refreshingly long view, just the sort of thing reading SF is supposed to cultivate more widely than it does. Putting PCs and keyboards into the class of household objects with bookshelves or teakettles, "things that we know how to make well, don't change much, and replace when they break", is perhaps a sort of design desiderata for the shorter term, but a nice stretch -- just as far as our modern thought can reach. She doubts that these tools will still be in use a thousand years hence, but the interesting thing is that we simply don't know and the possibilities are open.
In connection with this I have been embroiled in discussions lately of whether handwriting as we know it will survive the next century. I know some calligraphers who take heart at the recent revival of interest in handwritten messages as a more personal and in some ways more powerful medium for executives than email. In fact there was extensive discussion recently on the calligraphers' online list about an SF work in which clever young executive managers used Spencerian steel-pen writing styles (historically about a hundred years old now) for their meeting notes, with some kind of wall projection equipment and letter-recognition software involved. I don't know, but sharpened steel looks to me as though it will probably be more widely available than goosequills in the world of the future. I know how to make a really interesting dip pen from a soft-drink can -- a beer can would work too I suppose -- you can cut the stuff with scissors -- but they are kinda slow to write with. It is the latest thing in expressive calligraphy, though you can make those thousand-year-old letters with it too.
The Olde Plokta's Almanacke was worth several giggles. What's this dragon's scroll saying, anyhow? [Eigi Eru Enn Allir Jomsvikingar Daudhir -- Ed.]
---
John Hertz
If brevity's wit,
Is superfluous techno-
logy what won't fit?
---
Terry Jeeves
The mention of the Bonfire night 'do' reminded me of a party we had at Frank and Patty Milne's home in Maghull some forty years ago!! We fired off rockets and as their house backed on to a canal, we tried firing them into the water. They went under OK, then shot out again thus proving the practicality of the Polaris missiles.
Talking of MI5, is there or has there been MI1, MI2, MI3, & MI4 and if so, what were they? [MI1-4 were other branches of Military Intelligence which no longer exist. MI5 & 6 we know. And there are rumours of an MI7, which is a UK Government secret, military version of SETI@whitehall]
Sad news -- Ron Bennett recently underwent successful heart surgery. The operation went well, but then he had a stroke which paralysed his left side. Last I heard he was showing slight improvement. One by one we old farts are running into planned obsolescence.
---
Brad Foster
Wow, that's certainly one way to make certain readers notice the change in design for a zine: send the last of the old design and the first of the new one in the same envelope! (And I only jumped a little bit at the sight of Jethro Tull leaping at me from the cover of V4/#1!)
Almost (I repeat, almost!) want to clip those three photos of The Walker and make a lot of copies, then put together a little flip-book of the actions. (Or, keeping with the superfluous technology, maybe you guys could do a little mini-movie of him on the web site?) [Sorry -- Dr P.]
B*rds Eye logo change was interesting. Sometimes I've got to wonder what goes through the minds of corporate hacks who do this kind of stuff. I mean, what, they asked people in stores what they were and weren't buying, and the response was overwhelmingly "I'd love to eat your fine product, but am I truly grossed out by the repulsive old man on the logo"? Sad.
---
R Graeme Cameron
I did take great delight in printing out the Corflu UK The Debauched Sloth newsletters. Great to put faces to names, or in Naomi's case...err, ahh,... never mind... A Fannish pair by ghod!
---
Bob Devney
Are you a Horny fan? [No, Aubrey/Maturin is more our sort of thing]
---
Enjoy the power and beauty of your youth. He may be busy tomorrow.
---