Following in Marco Polo's Footsteps
Conventions exist, as everyone knows, only as framing devices for a succession of good meals out in congenial company. For example, I have eaten a gutbusting Chinese meal on the Saturday night of Novacon every year I can remember, except when Novacon was exiled to Coventry. When we ate a gutbusting Indian meal, as I recall. When you enter a restaurant in the same town as a convention, you often find it full of fans in large and cheerful groups, who have taken over every table apart from one. The one table remaining is always occupied by a middle-aged couple, who have decided to celebrate their thirty-second wedding anniversary with a quiet dinner à deux at their favourite eating spot. They look somewhat disgruntled. When you sit down at your table for thirteen, the suggestion is made that all left-handed people should sit together; this making for an easier life with crowded table and chopsticks. Nowadays I resist this call, after realising that I was spending entirely too many meals eating with Paul Dormer. Much as I like Paul, variety is the spice of life and it's nice to talk to right-handed people too.
One table is always louder and more raucous than the rest. A little judicious eavesdropping indicates that this is because the assembled fans are telling dirty jokes. You listen more assiduously. They are sufficiently loud and raucous that you can hear every word. Except, of course, the punchlines, which they whisper so as not to offend the delicate sensibilities of the aforementioned middle-aged couple. Damn. At any rate, this table is clearly having more fun than you are. And for some reason, it invariably includes Rog Peyton.
Rog has a taste for the finer things in life, and a way of sniffing out good restaurants. I mean, we'd expect him to know where to eat in Birmingham. But even in other towns, he'll often come back from a meal raving about some restaurant somewhere or other where he had a terrific meal. So I paid attention when he bounded up to me at Evolution, and thrust a business card for The Silk Route into my hands. He raved about the restaurant, the quality of the food, how unusual it was, and how close to the Radisson (like every other restaurant apart from McDonald's, a "short taxi ride".) "But what sort of restaurant is it?" I asked. "Afghan." I looked unconvinced. Afghan? I remembered shaggy coats that appeared to have only recently been separated from large yaks; and in particular, Phil Nanson's black afghan (in honour of his being the black yak of the family). "Surely Afghan food consists mainly of lumps of grilled yak and the like?" I queried. Apparently not. Rog continued to wax poetic about the fine spicing, and excellent flavour, and I was convinced.
Unfortunately, events intervened. It is incredibly difficult to get a decent meal out at an Eastercon when you're trying to produce a daily underground newsletter. The only night I really had a chance to go out was Monday, but we'd agreed to eat with Steve, and he was too knackered to go out of the hotel -- so we had a very nice and vastly overpriced meal there instead. But we drive through West London often enough coming back home on the M4, so we thought we'd keep the card for future reference and go there some evening.
Our chance soon came. We were driving back from Reading, and we were hungry, and we thought -- "I know -- we'll try that Afghan restaurant in Isleworth". Unfortunately, I couldn't find the card. I was sure we'd kept it somewhere. What was the restaurant called? We remembered the card... The Silk Route, that was it. I was fairly sure. And what street was it on? Well, it was definitely Isleworth. And I remembered that it was quite a high number, so presumably it was a fairly long street. So we thought we'd drive round Isleworth and give it a go. After all, Rog had raved about this restaurant. And if we got stuck, we could always ask at a pub. So we drove around Isleworth. And we didn't find the restaurant. And we asked at a pub; in fact, at a number of pubs, and nobody had heard of it. "This is Old Isleworth, you know. You might want New Isleworth, which is up the road," they said at The Ferryboat. "You might try Old Isleworth, down the road," they suggested at the Fox and Hounds. We asked at a couple of petrol stations too, for good measure. We phoned Directory Enquiries. No listing, they explained, but added that restaurants are often listed under the owner's name or a name of a previous restaurant on the site. We drove back to the Radisson Edwardian -- perhaps they had suggested the restaurant to Rog? Nope, they said, after checking around a bit. Eventually, starving and depressed, we gave up and ate somewhere else.
A couple of months later, Jim & Jean Porter popped round. An exhibition of Jim's paintings was being organised, and he wanted to borrow back some of the ones I own; he was taking them away to photograph for the catalogue. We fed them cups of coffee, and fell to chatting about various things, including London restaurants. "The best meal we've had in ages," said Jim, "was at Eastercon. Rog Peyton took us to this marvellous Afghan restaurant, but I can't remember what it was called." "The Silk Route," we chorused. "Yes, that was it. Anyway, if you're ever in the area, it's well worth trying." So we explained that we'd lost the card, and had driven round and round Isleworth for hours, and they gave us some hints and tips on how to find it. Jean explained that it was on a road leading directly off the A4, but again, she wasn't quite sure which. But it wasn't hard to find.
So the next time we came back from Reading, we had another go. We tried each road leading into Isleworth from the A4. It wasn't on any of them. We found a minicab company. Surely they would know? They didn't. But they explained that whenever they couldn't find an address, they'd ask at the fire station -- apparently fire stations know where everything is. The Isleworth Fire Station was just up the road. I went in, feeling a bit embarrassed about walking into a fire station while not actually burning, explained that it wasn't an emergency, and asked about the restaurant. They'd never heard of it. We drove around some more, and even explored some bits of Osterley and Hounslow, before giving up a second time; we knew the card had definitely said Isleworth, though. We started thinking dark thoughts. Perhaps Rog had had the cards printed himself, and had bribed Jim & Jean to rave about the restaurant, as some sort of wicked prank. Maybe he was fed up of Steven and me eavesdropping his conversations in restaurants.
The other week, we were sorting out a pile of papers from Eastercon, when we came upon the card! Thornbury Road. We resolved to finally eat a meal at the elusive Silk Route. It had better be good, we thought, as we navigated the A4 for the third time in the pouring rain and thunder last Sunday evening. But this time we successfully found the restaurant; a left turn off the A4, and in Osterley, not Isleworth at all. No wonder we hadn't found it. We parked the car, clambered into waterproofs, and ran over to the restaurant, along with the digital camera so we'd have documentary evidence that the restaurant existed. It was shut. The sign on the door said Open, and there was a notice in the window explaining that although they were closed lunchtimes at present, they were open for dinner seven nights a week. Humph. So, this miraculous restaurant eludes us still. Maybe fourth time lucky. Rog wouldn't have gone so far as to create a false frontage, would he?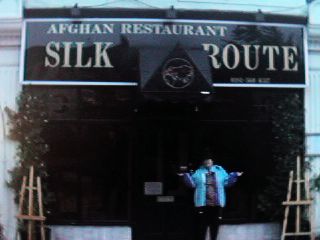 6 fried yak and a Kalashnikov to go, please
-- Alison Scott

---
Visit the Plokta News Network: News and comment for SF fandom