<plokta.con>
THIS is the last issue of Plokta before <plokta.con> so should fulfil the functions of a final progress report. And it does, at least a bit. Firstly, if you haven't booked your room, please ring the hotel and book it right now. They should be able to take reservations at any time -- or put you through to someone who can. Their phone number is +44 116 253 1161 and their fax number is +44 116 251 3169. Quote <plokta.con> and the room rate should be £27.50 per person for twin or double, £37.50 single. The dates of the convention are Friday 26 May to Monday 29 May, starting Friday evening and ending early afternoon on Monday. Programme ideas are still welcome, as we're tapping the zeitgeist to ensure we're up to the minute. Or something like that.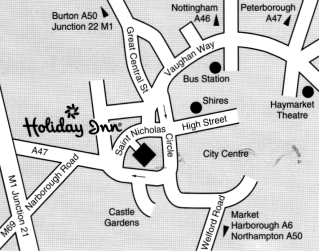 How to Get to the Holiday Inn
By Car: We recommend you come from M1 junction 21, because that's the one we have directions from. Leave the motorway at J21, and follow signs for A5460 & Castle Park. Take the A5460 (Narborough Road) for approximately 3 miles, until City Centre signs indicate a right turn. Go to the traffic lights and turn right into St Augustines Road. St Nicholas Circle is a great big roundabout in front of you with a hotel in the middle of it. That's the one you want; a slip road off the right lane of the roundabout leads into the NCP carpark.
By Train: Leicester is on a mainline from London St Pancras; the journey takes about an hour and a half. The station is about a mile from the hotel (St Nicholas Circle is at one end of the High Street). It's possible to walk but a taxi is probably easier; I'm afraid we don't know about buses.
By Air: From anywhere other than Birmingham or East Midlands airport, you'll be continuing your journey by train or car. Birmingham airport is about 25 miles, and East Midlands airport is about 18 miles, so taxis are plausible but fairly expensive.
So what's there to do in Leicester?
We met Chris Conway, a Leicester fan, at Didgeridouze. A multi-talented man, he's a singer-songwriter and multi-instrumentalist who also writes great articles about Leicester for Plokta. Go listen to his music at <www.chrisconway.org.uk>
I met Giulia at the Didgeridouze filk con and, whilst discussing the nature of the universe, she asked me to write some lines on the fair city of Leicester, where I've lived for 20 years -- I only came here for 3 to study -- therein lies proof of the pull of the place. The Hotel is in the centre of one of the city's biggest roundabouts, virtually over the river/canal (no-one is quite sure what it is at this point), one road off which leads to the High Street and the centre of town. This is marked by the clock tower -- a meeting point for young couples by night and a perch for religious loonies with megaphones by day.
History: Well actually you're not far from it. The only bit of Roman wall is just over the road and is part of the Jewry Wall museum. On the river bridge I seem to remember there is a plaque which marks the spot where Richard III banged his foot on the way to the Battle of Bosworth. A soothsayer woman was heard to say that he would bang his head on the stone on his return. Sure enough he was killed, his body draped over a horse and his head cracked on said stone. I think this is the story -- I wasn't there, you understand.
Greenery: Two choices really from the hotel. Castle Gardens is a formal garden across the road. Nice enough, it doesn't really go anywhere. You will, if you explore the vicinity, though, find a castle mound, a little courtyard where they used to chop people's heads off, a secret herb garden, and a hospital built for crusaders. You also have the river/canal path which isn't a bad amble, leading to Abbey Park.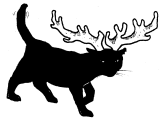 Food/Drink: Leicester has never been very good on pubs. Like lots of towns there has been a rabid growth of wine bars with heavies in suits on the outside. The Café Bruxelles is a little different with its painted interior dome and just a walk down the High Street on the right. They do those fancy Belgian Beers. I play jazz piano there some Monday nights. [The Café Bruxelles also comes Highly Recommended by the Plokta cabal].
Leicester is about a third Asian in population and we think we have the best curries to be had on planet Earth (or any other planet, for that matter -- though Proxima Centauri 3's are excellent it must be said). Unfortunately you're not really comfy waddling distance to them from the Inn. If you were rabid for a curry you'd get a bus/taxi to the Melton Road -- essentially Leicester's Little India -- also a good place to buy saris and the like. I mostly only know the veggie places there. The Sayonara and Bobby's are both excellent in this respect. Meat eaters will have to try pot luck, though my local way across town (the Monsoon on the Evington Road, tell the taxi driver) is pretty fab all round. (I don't get commission, honest).
Science Fiction: My fave secondhand bookshop is called the Black Cat Bookshop and is in the Silver Arcade, (High St, first right, left at the Globe pub, second arcade on your right) A nice 1930s arcade; sort of a mini Covent Garden with hat shops, tattoos, knick-knacks. Black Cat is on the third floor -- they have a wall of secondhand treasures. Their shop of new stuff (gamer stuff, action figures and an increasing number of saucy posters) is on the way.
Music: The Royal Mail, Campbell Street, (again, a taxi I guess -- taxis aren't too expensive and you wont be travelling far) often has great bands Fri, Sat and an acoustic Sunday lunch, and blues Sun night, and is a regular haunt of bohemes. The Shed, Yeoman Street has bands but is more of a club for those determinedly seeking a late drink.
There is a secondhand CD shop called Archers just down the High Street which is pretty good (CDs ~ £7ish). Those into avant garde, electronic, prog rock etc are in for a treat. The Ultima Thule record shop by the railway station on Conduit Street is a complete one-off and has an extraordinary stock from around the world. I'm hoping I can attend the con, but as a musician, gigs have a nasty habit of intruding on a good weekend. If I can make it, you can say hello and tell me what a fascinating account of Leicester I have written. If not, then enjoy our groovy city and have a great con.
--Chris Conway

---